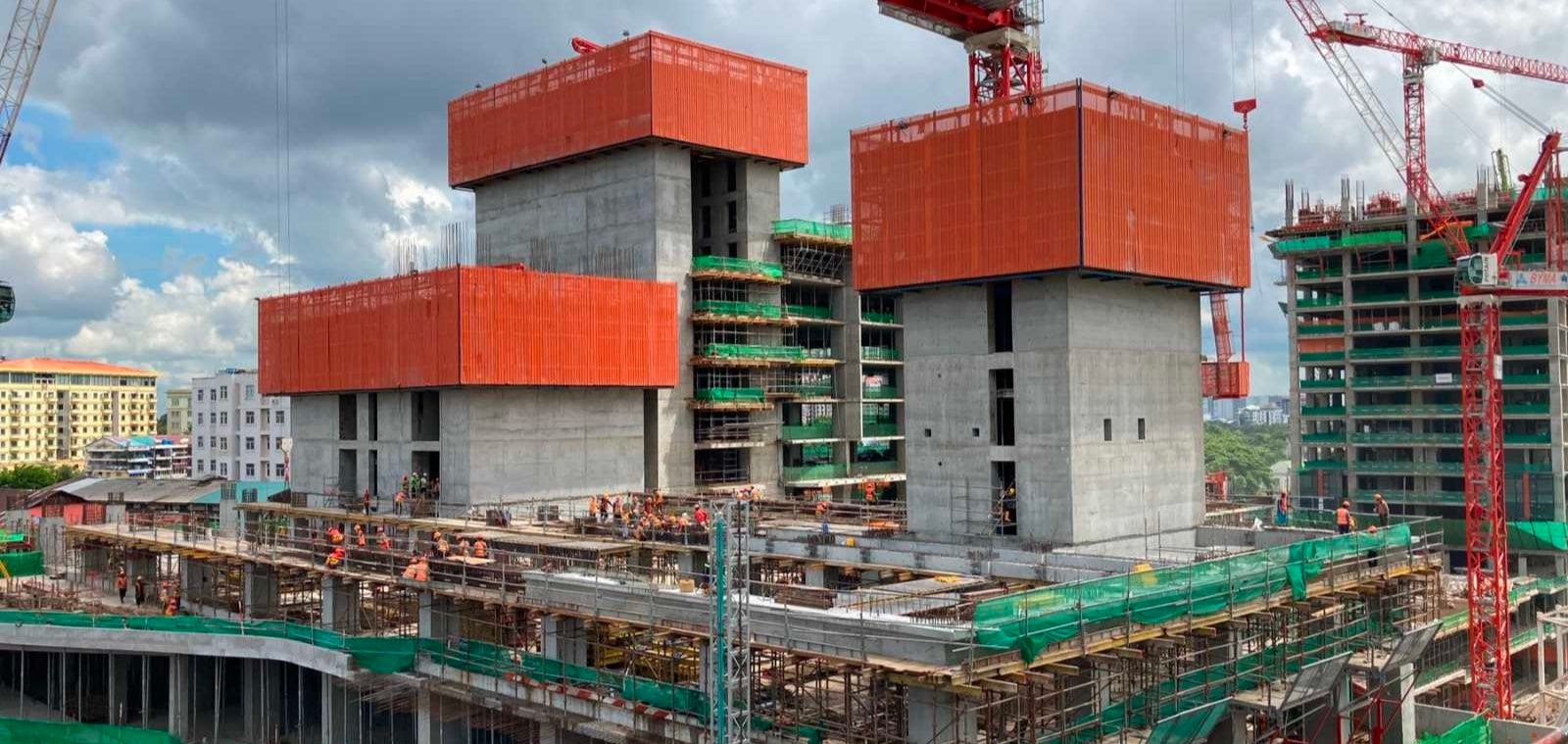 Yoma Central September 2020 Newsletter
Dear Friends, Investors and Partners,
This month we would like to share the progress on site prior to 21 September's Stay At Home Order issued by MOHS, as well showcase the profile of our Project Manager, Mr Ko Ko Win Swe Tun and announce the arrival of an International Sales Director Mrs Cindy Chick.
In an effort to support our neighborhood Yoma Central Project has donated urgently needed cash, PPEs and accessories worth 5.1 million MMK to Pabaden Township Covid-19 Control and Emergency Response Committee on 21 September 2020. The chairman of our township's Covid-19 Committee accepted the donation with adherence to social distancing regulations.
Just before the Stay at Home Order the construction work has been progressing on all four towers (with The Peninsula Residences now coming up to level 15), the basement and podium. We have also begun the second phase of mechanical, electrical and plumbing works on site and cheered the completion of the Energy Centre at Tower 3. For more details, see the construction report below.
Despite the pandemic the leasing activities for both office and retail have been making good progress.
Stay safe,
Yoma Central team
---
Work on the Yoma Central project continued at pace through the month of August. Construction teams were installing block works and have begun the process of installing the mechanical, electrical and plumbing works.
Tower 1 – The Peninsula Residences Yangon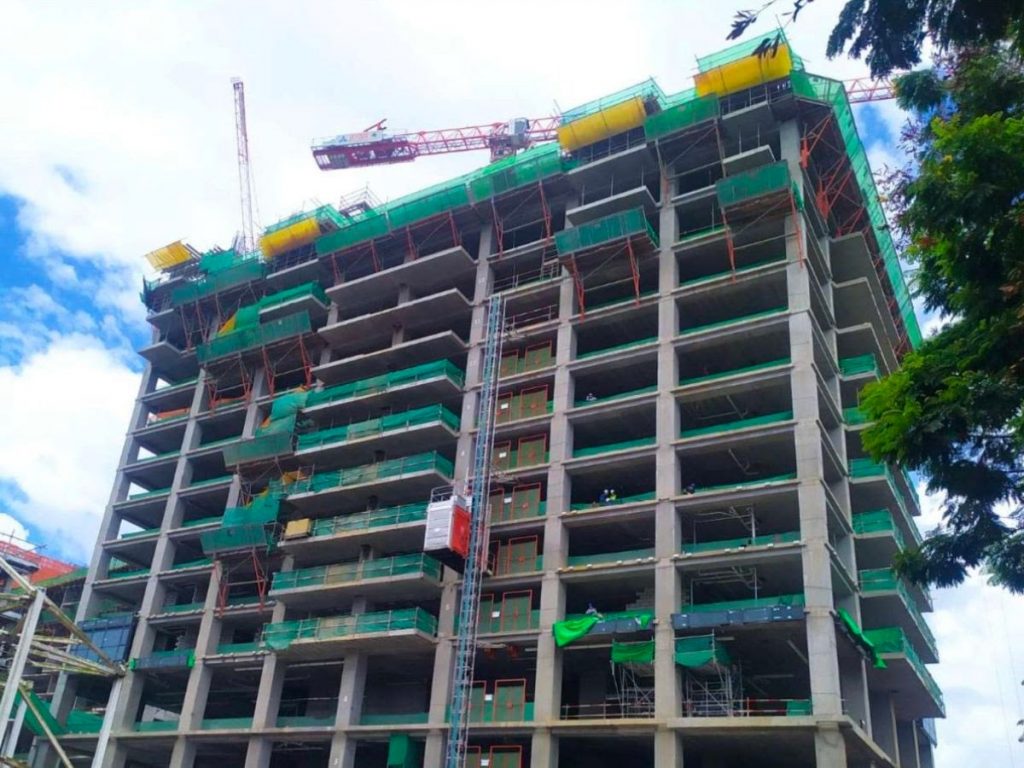 Tower 1's concrete structure has reached level 15. The block works are currently conducted at the podium located at level 5 as well as on level 6. On the north side of the building, we have also begun unitizing the tower's glass facade panels at levels 5 and 6. Furthermore, our mechanical, electrical and plumbing works are currently underway at levels 1 through to 10.
Tower 2 – Westin Hotel
Tower 2's concrete post-tension slab structure has reached level 11, whereas blockworks have commenced at level 2. The first phase of mechanical, electrical and plumbing fix has commenced at levels 1 through to 5.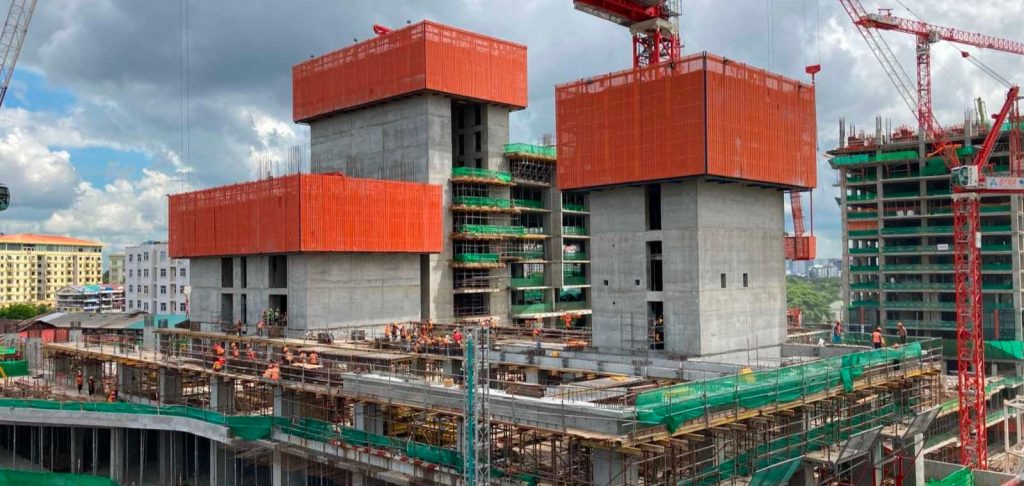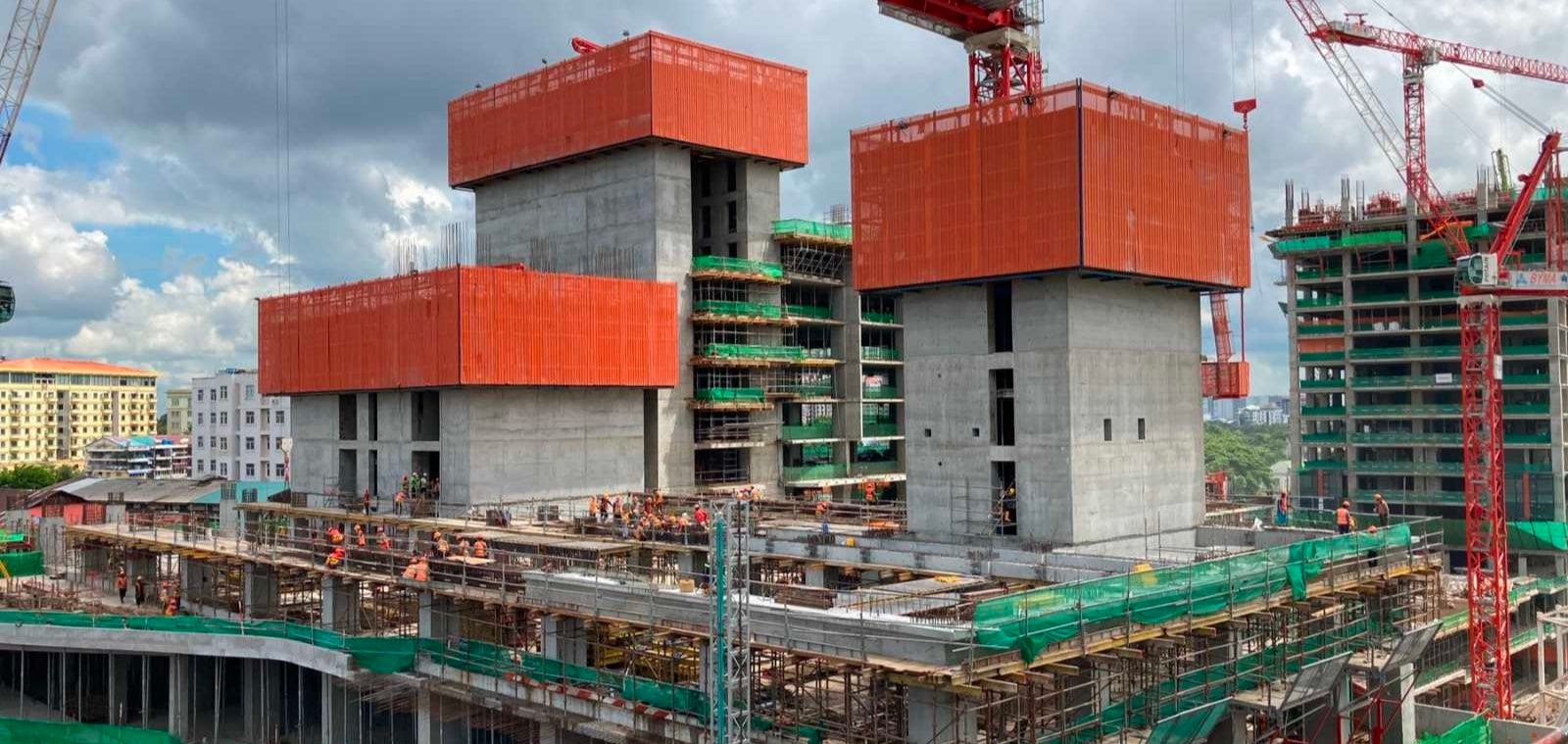 Tower 3 – Offices
The concrete slab structure footprint of Tower 3 has now reached level 6 and we are also approaching the completion of concrete structure works on the Energy Centre, which is now furnished with its 12.5kVA transformers and all relevant accessories. We have installed the generator while two of its five chiller plants have been delivered and are ready for installation. Further Mechanical, Electrical and Plumbing (MEP) equipment has been delivered to the site for installation in the coming weeks.
Tower 4 – Offices
The concrete slab structure of Tower 4 has reached level 7. First and second phase of mechanical, electrical and plumbing works was conducted at levels 1 to 4.
Podium
The construction of the concrete slabs that will form the podium has now reached level 2 of Tower 1, whereas at the remaining towers it is already at level 5. Mechanical, electrical and plumbing is at first and second fix at Towers 1, 2 and 3.
Basement
Slab construction in Basements 1-4 is reaching completion, whereas at B5 we have commenced the excavation process. Mechanical, electrical and plumbing work progresses through both fix 1 and 2 at levels B1 and B2.